She's the Man (2006)
If you wanna chase your dream, sometimes you gotta break the rules.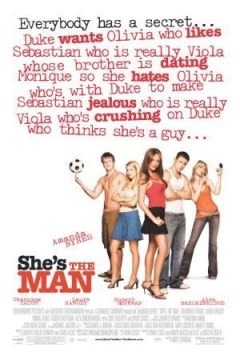 Tiener Viola krijgt te horen dat haar meiden-voetbalteam wordt opgeheven. Zwaar teleurgesteld krijgt ze het plan zich voor te doen als haar tweelingbroer, die toch de stad uit is, en ze neemt zijn kamer in op diens high school. Ze wordt echter verliefd op kamergenoot Duke en een ander meisje valt weer voor haar, wat allerlei misverstanden oplevert.
Toegevoegd 2012-06-25 12:57 | Laatst gewijzigd 2022-08-10 07:00
Alle uitzenddata
| Datum | Tijd | Titel | Zender | IMDb score | IMDb stemmen | FT score | FT stemmen |
| --- | --- | --- | --- | --- | --- | --- | --- |
| 26-03-2020 | 22:35 - 00:45 | She's the Man | Net5 | 6.3/10 | 141,017 | 5.8/10 | 52 |
| 10-08-2019 | 20:30 - 22:35 | She's the Man | SBS9 | 6.4/10 | 137,862 | 5.8/10 | 52 |
| 07-08-2019 | 22:15 - 00:20 | She's the Man | Net5 | 6.4/10 | 137,820 | 5.8/10 | 52 |
| 18-07-2018 | 22:30 - 00:35 | She's the Man | Net5 | 6.4/10 | 130,754 | 5.8/10 | 52 |
| 25-03-2017 | 22:00 - 00:10 | She's the Man | FOX | 6.4/10 | 121,806 | 5.8/10 | 52 |
| 25-03-2017 | 00:40 - 02:40 | She's the Man | FOX | 6.4/10 | 121,786 | 5.8/10 | 52 |
| 12-03-2013 | 20:30 - 22:35 | She's the Man | Net5 | 6.3/10 | 61,753 | 5.9/10 | 45 |
| 26-06-2012 | 20:30 - 22:45 | She's the Man | Net5 | 6.3/10 | 48,263 | 6/10 | 43 |