Shrek the Third (2007)
Cookies that talk. Trees that walk. Donkeys on deck. It must be... Shrek!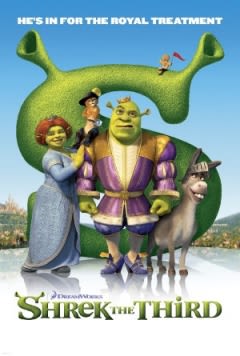 Aan het einde van de vorige film is de koning in een kikker veranderd en daarom zijn Shrek en Fiona nu waarnemend koning en koningin. Ze vinden er maar niets aan, dus gaan ze samen met Donkey en Puss In Boots op zoek naar de ware troonopvolger. Dat blijkt een neef van Koningin Lillian te zijn, Artie, die op kostschool zit en totaal geen interesse heeft in het koningschap. Terwijl Shrek en Fiona weg zijn, is Prince Charming bezig met een staatsgreep om Far Far Away over te nemen...
Toegevoegd 2012-08-11 01:32 | Laatst gewijzigd 2023-12-04 07:00
Alle uitzenddata
| Datum | Tijd | Titel | Zender | IMDb score | IMDb stemmen | FT score | FT stemmen |
| --- | --- | --- | --- | --- | --- | --- | --- |
| 02-12-2023 | 20:30 - 22:35 | Shrek the Third | Comedy Central | 6.1/10 | 325,943 | 5.8/10 | 91 |
| 22-07-2023 | 21:00 - 23:00 | Shrek the Third | Comedy Central | 6.1/10 | 320,707 | 5.8/10 | 91 |
| 06-05-2023 | 20:30 - 22:15 | Shrek the Third | Comedy Central | 6.1/10 | 317,551 | 5.8/10 | 91 |
| 11-02-2023 | 21:00 - 22:55 | Shrek the Third | Comedy Central | 6.1/10 | 313,037 | 5.8/10 | 91 |
| 17-12-2022 | 22:10 - 00:10 | Shrek the Third | Comedy Central | 6.1/10 | 308,713 | 5.8/10 | 91 |
| 01-10-2022 | 20:30 - 22:30 | Shrek the Third | Comedy Central | 6.1/10 | 305,865 | 5.8/10 | 91 |
| 21-08-2022 | 11:10 - 13:00 | Shrek the Third | Paramount Network | 6.1/10 | 304,370 | 5.8/10 | 91 |
| 14-08-2022 | 13:00 - 15:00 | Shrek the Third | Paramount Network | 6.1/10 | 304,089 | 5.8/10 | 91 |
| 13-02-2021 | 20:30 - 22:50 | Shrek the Third | Comedy Central | 6.1/10 | 281,192 | 5.8/10 | 91 |
| 19-11-2020 | 21:00 - 22:55 | Shrek the Third | Comedy Central | 6.1/10 | 277,097 | 5.8/10 | 96 |
| 11-11-2020 | 12:45 - 14:20 | Shrek the Third | Nickelodeon | 6.1/10 | 276,725 | 5.8/10 | 91 |
| 07-11-2020 | 17:10 - 18:50 | Shrek the Third | Nickelodeon | 6.1/10 | 276,545 | 5.8/10 | 91 |
| 04-07-2020 | 10:10 - 11:35 | Shrek the Third | Nickelodeon | 6.1/10 | 272,489 | 5.8/10 | 91 |
| 28-06-2020 | 15:00 - 16:30 | Shrek the Third | Nickelodeon | 6.1/10 | 272,342 | 5.8/10 | 91 |
| 20-06-2020 | 20:00 - 22:00 | Shrek the Third | Comedy Central | 6.1/10 | 272,076 | 5.8/10 | 91 |
| 27-04-2020 | 16:40 - 18:40 | Shrek the Third | Comedy Central | 6.1/10 | 269,733 | 5.8/10 | 91 |
| 03-04-2020 | 22:00 - 00:05 | Shrek the Third | Comedy Central | 6/10 | 268,196 | 5.8/10 | 91 |
| 28-03-2020 | 20:00 - 22:00 | Shrek the Third | Comedy Central | 6/10 | 267,826 | 5.8/10 | 91 |
| 16-02-2020 | 15:20 - 16:40 | Shrek the Third | BBC Two | 6/10 | 266,236 | 5.8/10 | 91 |
| 31-12-2019 | 15:10 - 16:35 | Shrek the Third | BBC Two | 6/10 | 264,185 | 5.8/10 | 91 |
| 26-12-2019 | 21:25 - 23:10 | Shrek the Third | RTL5 | 6/10 | 263,851 | 5.8/10 | 91 |
| 09-12-2018 | 15:35 - 17:00 | Shrek the Third | BBC Two | 6.1/10 | 245,873 | 5.8/10 | 91 |
| 03-12-2018 | 20:30 - 22:30 | Shrek the Third | RTL8 | 6.1/10 | 245,568 | 5.8/10 | 91 |
| 24-07-2018 | 20:30 - 22:30 | Shrek the Third | RTL8 | 6/10 | 240,600 | 5.8/10 | 91 |
| 28-12-2017 | 15:20 - 16:45 | Shrek the Third | BBC Two | 6.1/10 | 233,072 | 5.8/10 | 91 |
| 17-10-2017 | 20:30 - 22:30 | Shrek the Third | RTL8 | 6.1/10 | 230,561 | 5.8/10 | 91 |
| 22-07-2017 | 17:50 - 19:15 | Shrek the Third | BBC Two | 6.1/10 | 227,085 | 5.8/10 | 91 |
| 01-01-2017 | 20:00 - 21:45 | Shrek the Third | RTL5 | 6.1/10 | 217,837 | 5.8/10 | 91 |
| 29-12-2016 | 17:20 - 18:45 | Shrek the Third | BBC Two | 6.1/10 | 217,603 | 5.8/10 | 91 |
| 08-10-2016 | 16:20 - 17:45 | Shrek the Third | BBC Two | 6.1/10 | 214,324 | 5.8/10 | 91 |
| 14-07-2016 | 20:30 - 22:10 | Shrek the Third | RTL8 | 6.1/10 | 210,401 | 5.8/10 | 91 |
| 23-12-2015 | 20:30 - 22:15 | Shrek the Third | RTL5 | 6.1/10 | 197,919 | 5.8/10 | 91 |
| 22-12-2015 | 16:50 - 18:15 | Shrek the Third | BBC Two | 6.1/10 | 197,846 | 5.8/10 | 91 |
| 18-01-2015 | 17:10 - 18:35 | Shrek the Third | BBC Two | 6/10 | 173,251 | 5.8/10 | 91 |
| 29-12-2014 | 20:30 - 22:10 | Shrek the Third | RTL5 | 6/10 | 171,026 | 5.8/10 | 91 |
| 12-04-2014 | 18:15 - 19:40 | Shrek the Third | BBC Two | 6/10 | 154,452 | 5.7/10 | 86 |
| 21-12-2013 | 20:00 - 21:45 | Shrek the Third | RTL5 | 6/10 | 147,226 | 5.7/10 | 85 |
| 11-08-2012 | 20:00 - 21:40 | Shrek the Third | SBS6 | 6/10 | 104,620 | 5.7/10 | 77 |