The Golden Compass (2007)
There are worlds beyond our own - the compass will show the way.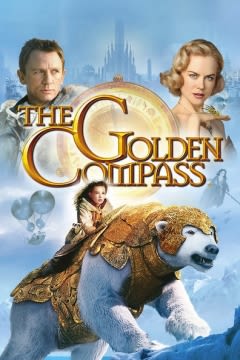 In de grootste film van deze winter, met hoofdrollen van Nicole Kidman, Daniel Craig en Eva Green, krijg het 12-jarige weesmeisje Lyra een 'Alethiometer'. Dit gouden kompas wijst de weg in een parallelle wereld waarin Lyra naar het koude Noorden reist om haar vriend Roger te redden. Haar zoektocht eindigt in een ongelofelijke strijd om niet alleen haar wereld, maar ook de onze te redden.
Toegevoegd 2012-08-04 08:18 | Laatst gewijzigd 2021-11-30 21:07
Alle uitzenddata
| Datum | Tijd | Titel | Zender | IMDb score | IMDb stemmen | FT score | FT stemmen |
| --- | --- | --- | --- | --- | --- | --- | --- |
| 21-05-2021 | 22:30 - 00:40 | The Golden Compass | SBS9 | 6.1/10 | 180,914 | 6.4/10 | 89 |
| 17-05-2021 | 22:35 - 00:45 | The Golden Compass | Net5 | 6.1/10 | 180,858 | 6.4/10 | 89 |
| 24-10-2019 | 22:15 - 00:25 | The Golden Compass | SBS9 | 6.1/10 | 169,760 | 6.4/10 | 89 |
| 21-10-2019 | 23:10 - 01:20 | The Golden Compass | Net5 | 6.1/10 | 169,694 | 6.4/10 | 89 |
| 29-11-2018 | 22:15 - 00:25 | The Golden Compass | SBS9 | 6.1/10 | 164,265 | 6.4/10 | 89 |
| 26-11-2018 | 22:25 - 00:35 | The Golden Compass | Net5 | 6.1/10 | 164,204 | 6.4/10 | 89 |
| 07-03-2016 | 20:30 - 22:40 | The Golden Compass | RTL8 | 6.1/10 | 145,713 | 6.4/10 | 89 |
| 21-09-2015 | 20:30 - 22:40 | The Golden Compass | RTL8 | 6.1/10 | 140,940 | 6.4/10 | 87 |
| 21-08-2013 | 20:30 - 22:40 | The Golden Compass | RTL8 | 6.1/10 | 109,575 | 6.4/10 | 82 |
| 09-03-2013 | 20:00 - 22:10 | The Golden Compass | RTL8 | 6.1/10 | 100,445 | 6.4/10 | 76 |
| 21-12-2012 | 20:30 - 22:35 | The Golden Compass | RTL5 | 6.1/10 | 94,440 | 6.3/10 | 72 |
| 05-08-2012 | 20:00 - 22:10 | The Golden Compass | RTL4 | 6.1/10 | 85,470 | 6.3/10 | 64 |