The Ladykillers (2004)
The greatest criminal minds of all time have finally met their match.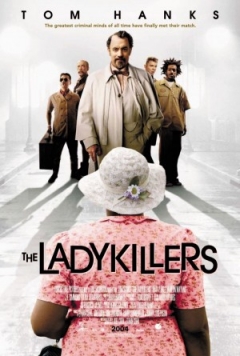 In deze remake van de gelijknamige film uit 1955 zoekt een professor een aantal dieven bij elkaar om een casino te beroven. Ze huren een kamer in het huis van een oude vrouw, die al snel op de hoogte raakt van het plan. De dieven besluiten de vrouw te vermoorden. Dit is echter makkelijker gezegd dan gedaan...
Toegevoegd 2013-04-08 10:24 | Laatst gewijzigd 2022-01-28 07:00
Alle uitzenddata
| Datum | Tijd | Titel | Zender | IMDb score | IMDb stemmen | FT score | FT stemmen |
| --- | --- | --- | --- | --- | --- | --- | --- |
| 17-08-2014 | 00:25 - 02:25 | The Ladykillers | Net5 | 6.2/10 | 71,963 | 5.8/10 | 61 |
| 11-05-2014 | 00:30 - 02:25 | The Ladykillers | Net5 | 6.2/10 | 70,381 | 5.8/10 | 61 |
| 10-04-2013 | 00:35 - 02:15 | The Ladykillers | BBC Two | 6.1/10 | 60,144 | 5.8/10 | 59 |