The Other End of the Line (2008)
Two countries. Two cultures. One chance at love.
IMDb 6.2/10 (3,973) | FilmTotaal 6.5/10 (2)

106 minuten |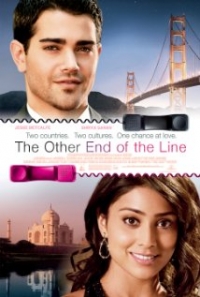 Een mooie call-center medewerkster die telefonisch creditcards aanbiedt woont in India maar doet alsof ze in Amerika woont tegenover haar klanten. Tijdens het bellen heeft ze een man aan de lijn waar ze meteen een klik mee heeft. Ze gaat naar San Francisco voor een romantische ontmoeting met de man. Ze besluit echter haar ware identiteit voor haar te houden, dat een bedreiging wordt voor de vonken tussen haar en haar potentiële lover.
Toegevoegd 2014-08-27 09:00 | Laatst gewijzigd 2021-11-30 21:07
Alle uitzenddata
| Datum | Tijd | Titel | Zender | IMDb score | IMDb stemmen | FT score | FT stemmen |
| --- | --- | --- | --- | --- | --- | --- | --- |
| 01-03-2015 | 20:30 - 22:25 | The Other End of the Line | SBS9 | 6.2/10 | 3,973 | 6.5/10 | 2 |
| 28-08-2014 | 23:05 - 01:10 | The Other End of the Line | Net5 | 6.2/10 | 3,569 | 6.5/10 | 2 |