Final Score (2018)
35,000 Hostages in the Stadium. The Clock is Ticking.
IMDb 5.8/10 (13,441) | FilmTotaal 0/10 (0)

104 minuten | Actie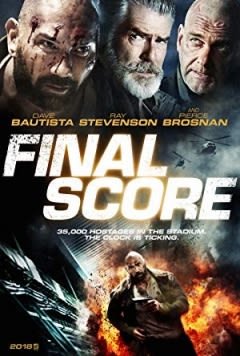 Een groep criminelen valt een voetbalstadion binnen. Nietsvermoedende supporterts veranderen meteen in gijzelaars die hun leven niet zeker zijn. Aan ex-soldaat Michael Knox de onmogelijke taak om 35.000 levens te redden.
Toegevoegd 2019-08-25 09:00 | Laatst gewijzigd 2023-12-04 07:00
Alle uitzenddata
| Datum | Tijd | Titel | Zender | IMDb score | IMDb stemmen | FT score | FT stemmen |
| --- | --- | --- | --- | --- | --- | --- | --- |
| 20-11-2023 | 22:30 - 00:35 | Final Score | RTL7 | 5.8/10 | 13,944 | 6/10 | 6 |
| 28-02-2023 | 22:35 - 00:40 | Final Score | RTL7 | 5.8/10 | 13,441 | 0/10 | 0 |
| 01-06-2022 | 22:25 - 00:27 | Final Score | RTL7 | 5.7/10 | 11,939 | 0/10 | 0 |
| 02-06-2021 | 22:30 - 00:45 | Final Score | RTL7 | 5.8/10 | 10,241 | 0/10 | 0 |
| 18-10-2020 | 21:55 - 00:00 | Final Score | RTL7 | 5.7/10 | 9,322 | 0/10 | 0 |
| 23-05-2020 | 20:00 - 22:05 | Final Score | RTL7 | 5.7/10 | 8,670 | 0/10 | 0 |
| 04-11-2019 | 20:30 - 22:35 | Final Score | RTL7 | 5.7/10 | 7,582 | 0/10 | 0 |
| 26-08-2019 | 20:30 - 22:35 | Final Score | RTL7 | 5.7/10 | 7,005 | 0/10 | 0 |