Jumanji: Welcome to the Jungle (2017)
Landing This Christmas.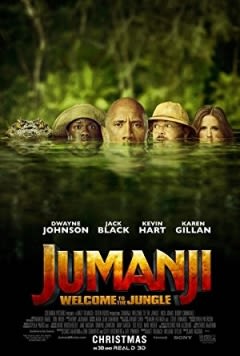 Vier middelbare scholieren ontdekken een videogame console en worden letterlijk het spel ingesleurd. Daar worden ze volwassen avatars. Maar wat ze al snel ontdekken, is dat je Jumanji niet gewoon speelt. Je moet het overleven. Om het spel te verslaan en terug te keren naar de echte wereld, moeten ze het gevaarlijkste avontuur van hun levens zien te overleven en ontdekken wat Alan Parrish twintig jaar eerder achterliet en de manier veranderen waarop ze over zichzelf denken. Anders zullen ze nooit ontsnappen.
Toegevoegd 2020-08-26 08:45 | Laatst gewijzigd 2022-11-27 07:00
Alle uitzenddata
| Datum | Tijd | Titel | Zender | IMDb score | IMDb stemmen | FT score | FT stemmen |
| --- | --- | --- | --- | --- | --- | --- | --- |
| 26-09-2022 | 20:30 - 22:45 | Jumanji: Welcome to the Jungle | Net5 | 6.9/10 | 375,727 | 0/10 | 0 |
| 03-03-2022 | 20:30 - 22:45 | Jumanji: Welcome to the Jungle | Veronica | 6.9/10 | 359,302 | 0/10 | 0 |
| 29-03-2021 | 20:30 - 22:50 | Jumanji: Welcome to the Jungle | Net5 | 6.9/10 | 324,475 | 0/10 | 0 |
| 27-08-2020 | 20:30 - 22:55 | Jumanji: Welcome to the Jungle | SBS6 | 6.9/10 | 307,935 | 0/10 | 0 |