A Most Violent Year (2014)
The result is never in question, just the path you take to get there.
IMDb 7/10 (61,875) | FilmTotaal 7.5/10 (13)

125 minuten |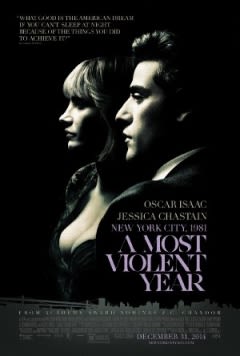 Het is de winter van 1981, een van de meest gewelddadige jaren die New York ooit heeft meegemaakt. We kijken mee met een immigrantenfamilie die een graantje van de 'American dream' probeert mee te pikken, maar zaken als geweld, verwaarlozing en corruptie zorgen ervoor dat ze alles dreigen kwijt te raken.
Toegevoegd 2016-12-31 09:00 | Laatst gewijzigd 2022-11-27 07:00
Alle uitzenddata
| Datum | Tijd | Titel | Zender | IMDb score | IMDb stemmen | FT score | FT stemmen |
| --- | --- | --- | --- | --- | --- | --- | --- |
| 17-12-2019 | 23:55 - 01:55 | A Most Violent Year | BBC Two | 7/10 | 61,875 | 7.5/10 | 13 |
| 10-08-2019 | 00:35 - 02:35 | A Most Violent Year | BBC One | 7/10 | 60,653 | 7.5/10 | 13 |
| 30-06-2019 | 03:25 - 05:30 | A Most Violent Year | FOX | 7/10 | 60,299 | 7.5/10 | 13 |
| 10-06-2019 | 03:15 - 05:10 | A Most Violent Year | FOX | 7/10 | 60,122 | 7.5/10 | 13 |
| 15-05-2019 | 02:00 - 04:00 | A Most Violent Year | FOX | 7/10 | 59,934 | 7.5/10 | 13 |
| 04-05-2019 | 03:40 - 05:45 | A Most Violent Year | FOX | 7/10 | 59,823 | 7.5/10 | 13 |
| 01-05-2019 | 03:55 - 06:00 | A Most Violent Year | FOX | 7/10 | 59,779 | 7.5/10 | 13 |
| 08-04-2019 | 02:45 - 04:50 | A Most Violent Year | FOX | 7/10 | 59,526 | 7.5/10 | 13 |
| 07-04-2018 | 23:00 - 01:30 | A Most Violent Year | FOX | 7/10 | 55,109 | 7.5/10 | 13 |
| 17-02-2018 | 00:05 - 02:00 | A Most Violent Year | BBC One | 7/10 | 54,287 | 7.5/10 | 13 |
| 08-01-2017 | 23:00 - 01:00 | A Most Violent Year | BBC One | 7/10 | 48,583 | 7.5/10 | 13 |
| 01-01-2017 | 21:55 - 00:30 | A Most Violent Year | FOX | 7/10 | 48,384 | 7.5/10 | 13 |