Harry Potter and the Chamber of Secrets (2002)
Hogwarts is back in session.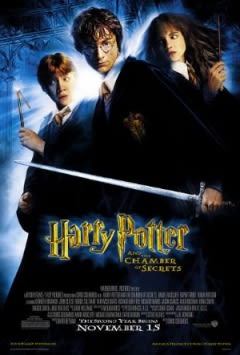 Harry Potter wordt vlak voor zijn tweede jaar op de Hogwarts School door de elf Dobby gewaarschuwd dat zijn terugkeer op de school tot een ramp zal leiden. Maar Harry gaat toch, en ontdekt dat hij nog steeds wordt gehaat door Professor Snape en zijn klasgenoot Draco Malfoy. Wanneer enkele Hogwarts-studenten op een gegeven moment versteend worden aangetroffen, vraagt iedereen zich af wie of wat de oorzaak hiervan is.
Toegevoegd 2012-12-24 10:32 | Laatst gewijzigd 2023-12-04 07:00
Alle uitzenddata
| Datum | Tijd | Titel | Zender | IMDb score | IMDb stemmen | FT score | FT stemmen |
| --- | --- | --- | --- | --- | --- | --- | --- |
| 05-11-2023 | 20:00 - 23:35 | Harry Potter and the Chamber of Secrets | Net5 | 7.4/10 | 672,065 | 7.1/10 | 172 |
| 01-04-2023 | 14:10 - 17:15 | Harry Potter and the Chamber of Secrets | Paramount Network | 7.4/10 | 650,794 | 7.1/10 | 172 |
| 29-03-2023 | 20:30 - 23:35 | Harry Potter and the Chamber of Secrets | Paramount Network | 7.4/10 | 650,541 | 7.1/10 | 172 |
| 11-02-2023 | 15:40 - 19:00 | Harry Potter and the Chamber of Secrets | Paramount Network | 7.4/10 | 644,197 | 7.1/10 | 172 |
| 08-02-2023 | 20:30 - 23:30 | Harry Potter and the Chamber of Secrets | Paramount Network | 7.4/10 | 643,826 | 7.1/10 | 172 |
| 07-11-2022 | 20:30 - 00:05 | Harry Potter and the Chamber of Secrets | Net5 | 7.4/10 | 631,391 | 7.1/10 | 172 |
| 04-10-2021 | 20:30 - 00:05 | Harry Potter and the Chamber of Secrets | Net5 | 7.4/10 | 582,806 | 7.1/10 | 172 |
| 19-10-2020 | 20:30 - 00:05 | Harry Potter and the Chamber of Secrets | Net5 | 7.4/10 | 540,420 | 7.1/10 | 172 |
| 14-10-2019 | 20:30 - 00:05 | Harry Potter and the Chamber of Secrets | Net5 | 7.4/10 | 503,300 | 7.1/10 | 172 |
| 08-10-2018 | 20:30 - 00:10 | Harry Potter and the Chamber of Secrets | Net5 | 7.4/10 | 465,208 | 7.1/10 | 172 |
| 09-02-2018 | 20:30 - 00:30 | Harry Potter and the Chamber of Secrets | SBS6 | 7.4/10 | 445,286 | 7.1/10 | 172 |
| 30-12-2016 | 20:30 - 01:05 | Harry Potter and the Chamber of Secrets | SBS6 | 7.4/10 | 403,503 | 7.1/10 | 172 |
| 28-04-2015 | 20:30 - 23:40 | Harry Potter and the Chamber of Secrets | Veronica | 7.3/10 | 332,021 | 7.1/10 | 164 |
| 06-11-2014 | 20:30 - 23:40 | Harry Potter and the Chamber of Secrets | Veronica | 7.3/10 | 309,082 | 7/10 | 160 |
| 10-11-2013 | 20:00 - 23:10 | Harry Potter and the Chamber of Secrets | Net5 | 7.2/10 | 266,483 | 7/10 | 145 |
| 25-12-2012 | 20:30 - 23:40 | Harry Potter and the Chamber of Secrets | Net5 | 7.2/10 | 218,445 | 6.9/10 | 128 |