Harry Potter and the Sorcerer's Stone (2001)
Let The Magic Begin.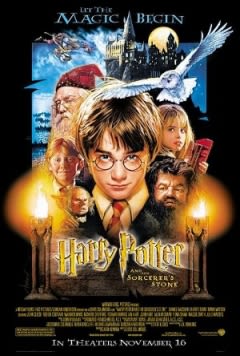 Na het overlijden van zijn ouders wordt de jonge Harry Potter opgevoedt door zijn oom Vervon en tante Perunia. Hij wordt slecht behandeld en heeft voortdurend ruzie met hun zoon Dudley. Op 11-jarige leeftijd krijgt hij een mysterieuze brief van de Hogwarts School of Witchcraft and Wizardry. De man die de brief bracht vertelt Harry over zijn ware afkomst...
Toegevoegd 2012-12-23 11:15 | Laatst gewijzigd 2023-01-26 07:00
Alle uitzenddata
| Datum | Tijd | Titel | Zender | IMDb score | IMDb stemmen | FT score | FT stemmen |
| --- | --- | --- | --- | --- | --- | --- | --- |
| 31-10-2022 | 20:30 - 23:40 | Harry Potter and the Sorcerer's Stone | Net5 | 7.6/10 | 772,939 | 7.2/10 | 194 |
| 27-09-2021 | 20:30 - 23:40 | Harry Potter and the Philosopher's Stone | Net5 | 7.6/10 | 698,884 | 7.2/10 | 194 |
| 12-10-2020 | 20:30 - 23:40 | Harry Potter and the Sorcerer's Stone | Net5 | 7.6/10 | 632,373 | 7.2/10 | 194 |
| 07-10-2019 | 20:30 - 23:40 | Harry Potter and the Sorcerer's Stone | Net5 | 7.6/10 | 580,689 | 7.2/10 | 194 |
| 01-10-2018 | 20:30 - 23:50 | Harry Potter and the Sorcerer's Stone | Net5 | 7.6/10 | 537,629 | 7.2/10 | 194 |
| 03-02-2018 | 20:00 - 23:40 | Harry Potter and the Sorcerer's Stone | SBS6 | 7.6/10 | 514,139 | 7.2/10 | 194 |
| 29-12-2016 | 20:30 - 00:25 | Harry Potter and the Sorcerer's Stone | SBS6 | 7.5/10 | 464,404 | 7.2/10 | 194 |
| 13-04-2016 | 20:30 - 23:50 | Harry Potter and the Sorcerer's Stone | Net5 | 7.5/10 | 431,542 | 7.2/10 | 192 |
| 27-04-2015 | 20:30 - 23:35 | Harry Potter and the Sorcerer's Stone | Veronica | 7.5/10 | 380,944 | 7.2/10 | 187 |
| 04-11-2014 | 20:30 - 23:35 | Harry Potter and the Sorcerer's Stone | Veronica | 7.4/10 | 352,256 | 7.2/10 | 183 |
| 03-11-2013 | 20:00 - 23:05 | Harry Potter and the Sorcerer's Stone | Net5 | 7.3/10 | 300,552 | 7.1/10 | 165 |
| 24-12-2012 | 20:30 - 23:35 | Harry Potter and the Sorcerer's Stone | Net5 | 7.3/10 | 243,743 | 7/10 | 147 |