Singin' in the Rain (1952)
MGM's Musical Treasure !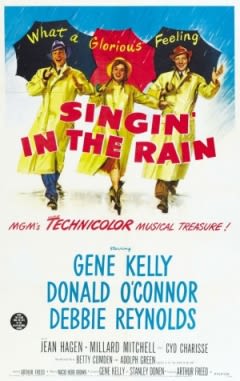 Musicalfilm uit 1952, met de wereldberoemde titelsong in de energieke, onvergetelijke uitvoering van Gene Kelly, over de overgang van de stomme film naar de geluidsfilm. Don Lockwood (Gene Kelly) en Lina Lamont (Jean Hagen) vormen op het scherm een romantisch koppel en worden niet alleen door de buitenwereld als paar gezien, maar ook Lina koestert deze gedachte. De twee sterren brengen de ene succesvolle stomme film na de andere uit volgens steeds dezelfde formule. Dit succes wordt echter verstoord door de komst van de geluidsfilm, waardoor niet alleen de gehele filmindustrie een historisch keerpunt maakt, maar ook Don en Lina zichzelf opnieuw moeten uitvinden. Dit gaat niet zonder slag of stoot en vooral door toedoen van Lina dreigt hun allereerste geluidsfilm een regelrechte ramp te worden. Dan krijgt Don samen met zijn maat Cosmo Brown (Donald O'Connor) een lumineuze ingeving en weten ze met behulp van Don's vriendin Kathy Selden (Debbie Reynolds) het tij te keren.
Toegevoegd 2012-12-24 10:32 | Laatst gewijzigd 2023-01-26 07:00
Alle uitzenddata
| Datum | Tijd | Titel | Zender | IMDb score | IMDb stemmen | FT score | FT stemmen |
| --- | --- | --- | --- | --- | --- | --- | --- |
| 29-10-2022 | 15:50 - 17:30 | Singin' in the Rain | BBC Two | 8.3/10 | 242,014 | 8.1/10 | 29 |
| 26-12-2021 | 13:40 - 15:20 | Singin' in the Rain | BBC Two | 8.3/10 | 231,543 | 8.1/10 | 29 |
| 14-03-2021 | 15:35 - 17:15 | Singin' in the Rain | BBC Two | 8.3/10 | 220,610 | 8.1/10 | 29 |
| 25-12-2020 | 12:35 - 14:15 | Singin' in the Rain | BBC Two | 8.3/10 | 216,912 | 8.1/10 | 29 |
| 01-01-2017 | 16:20 - 18:00 | Singin' in the Rain | Canvas | 8.3/10 | 155,846 | 8.1/10 | 29 |
| 25-03-2016 | 12:45 - 16:15 | Singin' in the Rain | BBC One | 8.3/10 | 144,518 | 8.1/10 | 29 |
| 03-01-2016 | 13:10 - 14:55 | Singin' in the Rain | NPO 1 | 8.4/10 | 140,132 | 8.1/10 | 28 |
| 25-07-2015 | 13:45 - 15:30 | Singin' in the Rain | BBC One | 8.4/10 | 132,126 | 8.1/10 | 27 |
| 13-06-2015 | 15:40 - 17:20 | Singin' in the Rain | Eén | 8.4/10 | 130,099 | 8.1/10 | 27 |
| 31-12-2014 | 14:10 - 16:00 | Singin' in the Rain | NPO 2 | 8.4/10 | 120,806 | 8.1/10 | 27 |
| 26-12-2014 | 14:50 - 16:30 | Singin' in the Rain | BBC One | 8.4/10 | 120,336 | 8.1/10 | 27 |
| 25-12-2012 | 14:35 - 16:15 | Singin' in the Rain | BBC One | 8.4/10 | 84,556 | 7.9/10 | 24 |