The Importance of Being Earnest

(2002)

Everybody Loves Ernest... But Nobody's Quite Sure Who He Really Is.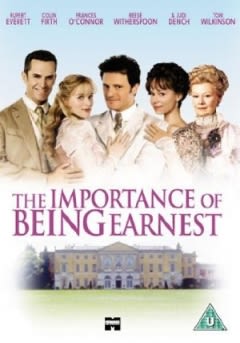 Twee rijke vrijgezellen bedenken de fictieve 'Earnest' uit de titel en brengen met zijn persoonlijkheid de dames het hoofd op hol, totdat die eisen dat ze hem willen ontmoeten. Dan zitten de heren vast in hun eigen leugenarij.
Toegevoegd 2012-10-26 19:34 | Laatst gewijzigd 2021-05-18 07:00
Alle uitzenddata
| Datum | Tijd | Titel | Zender | IMDb score | IMDb stemmen | FT score | FT stemmen |
| --- | --- | --- | --- | --- | --- | --- | --- |
| 18-12-2020 | 15:45 - 17:15 | The Importance of Being Earnest | BBC Two | 6.8/10 | 22,013 | 0/10 | 0 |
| 11-05-2020 | 16:00 - 17:30 | The Importance of Being Earnest | BBC Two | 6.8/10 | 21,618 | 0/10 | 0 |
| 19-12-2019 | 15:00 - 16:30 | The Importance of Being Earnest | BBC One | 6.8/10 | 21,286 | 0/10 | 0 |
| 20-04-2019 | 23:25 - 00:55 | The Importance of Being Earnest | BBC Two | 6.8/10 | 20,930 | 6/10 | 1 |
| 25-12-2017 | 13:15 - 14:40 | The Importance of Being Earnest | BBC One | 6.9/10 | 20,054 | 0/10 | 0 |
| 26-03-2017 | 13:15 - 14:45 | The Importance of Being Earnest | BBC One | 6.9/10 | 19,522 | 0/10 | 0 |
| 04-02-2017 | 14:00 - 15:30 | The Importance of Being Earnest | BBC One | 6.9/10 | 19,388 | 0/10 | 0 |
| 14-02-2016 | 16:00 - 17:30 | The Importance of Being Earnest | BBC One | 6.9/10 | 18,555 | 0/10 | 0 |
| 28-03-2015 | 14:30 - 16:00 | The Importance of Being Earnest | BBC One | 6.9/10 | 17,277 | 0/10 | 0 |
| 13-09-2014 | 14:35 - 16:05 | The Importance of Being Earnest | BBC One | 6.9/10 | 16,432 | 0/10 | 0 |
| 20-12-2013 | 13:00 - 14:30 | The Importance of Being Earnest | BBC One | 6.8/10 | 15,192 | 0/10 | 0 |
| 12-08-2013 | 13:00 - 14:30 | The Importance of Being Earnest | BBC One | 7.5/10 | 3,239 | 0/10 | 0 |
| 27-10-2012 | 14:00 - 15:35 | The Importance of Being Earnest | BBC One | 7.6/10 | 2,979 | 0/10 | 0 |