The Lion King (1994)
The greatest adventure of all is finding our place in the circle of life.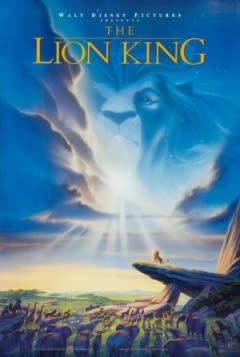 In Afrika wordt de jonge leeuw Simba geboren als zoon van de leeuwenkoning Mufasa. Dat zint Mufasa's jaloerse broer Scar absoluut niet, die nu niet langer de eerste troonopvolger is. Terwijl Simba een onbezorgde jeugd geniet in zijn vaders koninkrijk, smeedt Scar samen met een groep hyena's een plan om zowel Mufasa als Simba uit de weg te ruimen, en zo zelf de macht te kunnen grijpen.
Toegevoegd 2015-01-02 09:00 | Laatst gewijzigd 2023-01-26 07:00
Alle uitzenddata
| Datum | Tijd | Titel | Zender | IMDb score | IMDb stemmen | FT score | FT stemmen |
| --- | --- | --- | --- | --- | --- | --- | --- |
| 17-04-2022 | 18:45 - 20:10 | The Lion King | BBC One | 8.5/10 | 1,019,336 | 8.3/10 | 173 |
| 25-12-2015 | 20:35 - 22:00 | The Lion King | Eén | 8.5/10 | 587,010 | 8.3/10 | 172 |
| 19-12-2015 | 18:50 - 20:30 | The Lion King | SBS6 | 8.5/10 | 584,922 | 8.3/10 | 172 |
| 19-12-2015 | 18:50 - 20:30 | The Lion King | SBS9 | 8.5/10 | 584,922 | 8.3/10 | 172 |
| 03-01-2015 | 16:30 - 18:00 | The Lion King | SBS6 | 8.5/10 | 478,756 | 8.3/10 | 160 |