The Son of No One (2011)
Serve. Protect. Lie.
IMDb 5.1/10 (15,930) | FilmTotaal 4.8/10 (8)

90 minuten |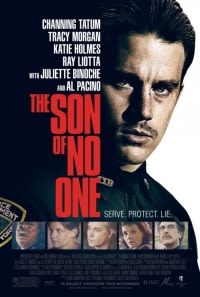 'The Son of No One' vertelt het verhaal over de jonge agent Jonathan White (Channing Tatum). Jonathan keert terug naar zijn roots om daar bij de politie te werken. Hij heeft echter een diep geworteld geheim waardoor zijn eigen leven en familie in gevaar komen.
Toegevoegd 2019-04-15 09:00 | Laatst gewijzigd 2022-11-27 07:00
Alle uitzenddata
| Datum | Tijd | Titel | Zender | IMDb score | IMDb stemmen | FT score | FT stemmen |
| --- | --- | --- | --- | --- | --- | --- | --- |
| 21-11-2019 | 22:40 - 00:50 | The Son of No One | RTL7 | 5.1/10 | 15,930 | 4.8/10 | 8 |
| 22-09-2019 | 22:45 - 00:50 | The Son of No One | RTL7 | 5.1/10 | 15,873 | 4.8/10 | 8 |
| 30-08-2019 | 22:40 - 00:40 | The Son of No One | RTL7 | 5.1/10 | 15,842 | 4.8/10 | 8 |
| 16-04-2019 | 22:35 - 00:40 | The Son of No One | RTL7 | 5.1/10 | 15,685 | 4.8/10 | 8 |