The Rainmaker (1997)
They were totally unqualified to try the case of a lifetime... but every underdog has his day.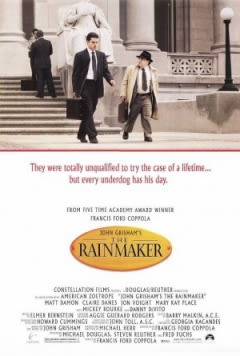 Rudy Baylor, een beginnende advocaat, is in een opvallende, zware rechtszaak verzeild raakt. Zijn tegenstanders: een legertje door de wol geverfde gehaaide juristen. Zijn medestanders: Deck Shifflet, een nogal opvliegende 'media-advocaat' die steeds zakt voor zijn rechtbankexamen. Rudy's kansen zijn miniem, tot hij een spoor van corruptie ontdekt dat hem kan leiden naar z'n enige kans om deze zaak te winnen: de waarheid.
Toegevoegd 2012-09-08 09:09 | Laatst gewijzigd 2022-11-27 07:00
Alle uitzenddata
| Datum | Tijd | Titel | Zender | IMDb score | IMDb stemmen | FT score | FT stemmen |
| --- | --- | --- | --- | --- | --- | --- | --- |
| 17-05-2022 | 20:30 - 22:40 | The Rainmaker | Paramount Network | 7.2/10 | 71,844 | 7.1/10 | 31 |
| 02-10-2021 | 20:30 - 22:30 | The Rainmaker | Paramount Network | 7.2/10 | 69,550 | 7.1/10 | 40 |
| 29-05-2021 | 22:05 - 01:00 | The Rainmaker | RTL7 | 7.2/10 | 66,597 | 7.1/10 | 39 |
| 06-02-2021 | 20:00 - 22:45 | The Rainmaker | RTL7 | 7.2/10 | 64,163 | 7.1/10 | 31 |
| 26-08-2020 | 20:30 - 23:15 | The Rainmaker | RTL8 | 7.2/10 | 62,058 | 7.1/10 | 31 |
| 03-02-2018 | 23:40 - 02:10 | The Rainmaker | RTL8 | 7.1/10 | 51,206 | 7.1/10 | 31 |
| 02-01-2018 | 20:30 - 23:30 | The Rainmaker | RTL7 | 7.1/10 | 50,810 | 7.1/10 | 31 |
| 17-10-2014 | 23:15 - 01:25 | The Rainmaker | Eén | 7.1/10 | 38,636 | 7.1/10 | 28 |
| 20-03-2013 | 20:30 - 23:20 | The Rainmaker | RTL8 | 6.9/10 | 28,851 | 7.1/10 | 25 |
| 09-09-2012 | 19:00 - 22:40 | The Rainmaker | RTL7 | 6.9/10 | 26,658 | 7.1/10 | 22 |